Posts Tagged 'sacred geometry'
This post is all about the ley lines that I dowsed in Paris. There's quite a lot of information in here so I have decided to put a bullet-point summary here at the beginning so that you can see what topics I am going to discuss:
Chris Hardy's book "The Sacred Network" and the Decumanus Lines of Paris
Finding the Luxor Obelisk using intuition alone, and its link with Kal in New York
The major and minor leys centred on the obelisk
The Jardin Des Tuileries and the strongest ley I've found yet
Being guided to find a smooth stone
How the Arc de Triomphe de Carrousel splits a major ley line
How the Louvre pyramid plays a part in the line's reconstitution
The Louvre's link with the "Axe Majeur" created by Francois Mitterand at Cergy-Pontoise
Have I whet your appetite? Great, then read on!
Sometimes life throws an opportunity your way and you just have to go with it. Such a chance came to me when work decided that I needed to be trained up and to do that I would be sent to Paris in May for a week. Well, what can one say to a chance like that? Yes, of course! I had just bought Chris Hardy's book "The Sacred Network" and been marvelling at the many pages about Paris' ley lines. Here I was being given the opportunity to go test them for myself, first-hand.
Chris Hardy refers to two main lines in Paris which she calls the West and East Decumanus lines. I drew myself a pair of lines on Google Maps from her rough indicator points, and then I could refer to that later. There are plenty of other leys referenced, but these are the main ones that cross so many of central Paris' main attractions, for example – the Champs Elysses, the Arc de Triomphe, La Defense, The Louvre to name but a small selection. What I wondered was, are these lines natural ley lines, or created by humans? Secondly I wanted to know whether they had any energy associated with them? That was all I was looking for. Time would be short, and dowsing in a city always has the possibility of attracting unwanted and often unshakeable attention, so it would have to be swift and to the point.
How to find your way in a city
From what I can gather from reading Hardy's book most of the main leys of Paris seem to be centered on the Luxor obelisk (or 'Obelisk of Ramases'). I decided that this would be my starting point for an exploration of which leys were which, and which were important for me to dowse. The very evening that I had goot clear to do this investigation work Kal sent me a long text epxplaining how he had found the Genius Loci for Central Park in New York, and that it was found at….an Egyptian obelisk (see Kal's Dowsing in the City post).
There was nothing else for it – now it was confirmed. I didn't know Paris or yet have a good handle on the underground train system, so I decided to walk to the obelisk. The only problem was… I had no idea where it was! I decided to trust to fate and began to walk down whatever street took my fancy, so long as it looked like it was heading towards the Seine River, which I figured would identify the centre of Paris. It was a foolhardy and naive assumption considering the length of the Seine, but I wanted to see what happened.
It seems sort of fitting that this post is the 400th post on this blog. We have come a long way since we started in late 2008. All of that seems so long ago now, because so much has happened since then. We have grown. So I present the 400th post – a summary of the year's work for 2010.
Like Kal I intend to do this summary in a single post. Last year it spread across about seven posts. I have learned to be more disciplined in this last year, and I will keep it to one. So, having sifted through all the millions of posts this year here are the absolute best bits. I didn't believe that 2009 could be bettered, but I was wrong – 2010 was a vintage year that will live long in my memory, and below you will find out some of the reasons why.
PERSONAL HIGHLIGHT
Meeting and integrating with the spirit of Merlin
Things had been progressing towards this all year. Firstly I had met Arthur's shade at Tintagel, and he tasked me with keeping Merlin's legacy alive by connecting up and re-energising sacred sites. Then shades that I interacted with began to call me "Son of Merlin", which I took to mean "follower" rather than literal progeny, or "spiritual inheritor" perhaps. Finally, at Dinas Emrys, it all came together and I descended into the Underworld to meet with Merlin's shade, and as we emerged onto earth we merged in a kind of Rosicrucian marriage of male and female energies.
Of course, all of this can and perhaps should be seen symbolically, rather than literally. It works from any point of view – psychologically as the culmination of some form of inner desire, or as a desire to perpetuate a myth symbolically because it serves some psychological purpose. I'm sure it could be read many ways. For me, it was the fulfilment of my magical self. It was the integration of the intention with the delivery. It was the satisfaction of the edict "Make magick manifest".
Meeting Brian Conquer and Feeling The Goddess in Glastonbury
Man, I almost forgot this. I was thinking about something completely unrelated and suddenly the whole experience came back to me and I had to add this bit into the post on 14th January 2011.
I remember being at the Chalice Well Gardens this year and meeting Brian Conquer, "Just a silly little Hedge Druid" as he described himself to some American tourists in search of free wisdom. I was intrigued by him - his eyes told me he knew many things and together we scolded those who leave Nature in a mess and praised those who make their own tools with love and care. That made me think of Oonagh.
Later, as I walked around the grounds he caught up with me and gave me a precious gift – a rugged clear quartz crystal. "Take that and go stand between the yew trees." he instructed with a twinkle in his eye. "Call for the goddess." I did what he said and minutes later she responded by visiting me – getting right inside me - expanding my aura to an incredible size and strength. So much so that a lady who was standing behind me went nuts, "Oh my God!" she kept screaming, "That's AMAZING!". I knew. I was feeling it. A stunning unforgettable moment for which I will repay Mr Conquer one day. 2011 is my year of service, after all.
WHAT I LEARNED
Here is a list of the twenty most valuable lessons that I learned from this year's tasks, quests, encounters and experiences….
1. Sacred sites have an energetic imprint that can be dowsed. This imprint or sigil can reveal information about significant dates associated with the site. For example, the date when the site is most energetic, or the date when the site was created. Some reveal a sigil specific to the resident Genius Loci.
2. Most sacred sites have some form of astrological alignment – either they are oriented towards the Sun, Moon (as calendars), or they may be designed upon a sacred number that is associated with a particular planet, or they are imbued with (or resonate to) the frequency of energetic emanations from particular stars. Often particular entrances can be found that align to celestial bodies, or significant stones are aligned to these heavenly objects are particular times of the year. These then act as guides to the types and timings of subtle energies within that sacred space.
3. There is a fourth kind of subtle energy beyond the male, female and neutral forms – Primal Energy. This is energy without gender association, and which has yet to be shaped or transformed by any agency such as the sun, moon or human. We recognised it first in crop circles, but then realised that we had been dealing with it energetically for some time without knowing what it was. I do nto have a clear distinction in my mind between primal and neutral energy forms and this is something I will endeavour to clear up in next year's work.
4. It is possible to imbue objects with energy such that they can retain that energy and it can be drawn out from the object at a later date by those who are aware of it. The energy imbued is in a primal energy form – neither male nor female until shaped after extraction. One one occasion I absorbed the remaining spirit energy from an ancient dying oak tree before it was lost completely.
5. It is important to have a purpose when visiting sacred spaces. Having a purpose means that the rewards from the visit are less random, and the information can be chained together over a period of time leading to pools of new insights, rather than just patches of new knowledge.
6. Spirits are real. Whether these be further sub-divided into spirit, shade or ghost I have come to learn that they have a real existence beyond my imagination. This has seen a complete reversal in my belief system on these subjects. Previously I imagined them to be something created by humans, or were simply an expression of Nature in her many forms. Now I know that they are sentient and purposeful in their own right, and only an expression of Nature insomuch as we are all an expression of Nature.
7. I have developed trust and lost a fear of the dark. By walking barefoot at sacred sites for much of the year, even at night, I have learned to overcome my fear of being hurt, and to place my trust in those spirits who are concerned with my welfare.
8. The earth's energy grid is in need of healing. I have been led to this conclusion by many different experiences over the year. At the start of the year I was told to go and re-awaken some sites. Later I would re-energise and link sites up. After that I would create my own neutral energy bridge between sites after pledging to take this role on, in the spirit of Merlin. I suspect that we have simply demolished, destroyed, desecrated and saturated too many of our "earth acupuncture" points on the earth grid upon which our islands lay. I feel it is my task to make what efforts I can to re-energise these points, especially after the death of Hamish Miller this year.
9. Arbor Low is a hub for neutral energy lines. This finding sparked a deep investigation into the nature of neutral energy. We later found that this sacred site was particularly beneficial for learning. I spent a time tracing where these neutral radial lines went to and found some amazing correlations which all need further investigation.
10. Stimulating, cleansing and closing the Chakras are a means to controlling the flow of subtle energy between the human energy form and other energy repositories. I spent a long time this year working through these processes at various sites and found the whole process very mystical and beneficial to my understanding of how the human energy system can be controlled.
11. The sacred geometrical numbers five, six, seven, eleven and twelve kept cropping up this year. Particularly, '5+7=12′ and '5+6=11′ were important equations. The 12 equation represented the current order of things: five being man, seven being spirituality and twelve being civilisation. The 11 equation seemed to represent an alternative or older way of thinking: five being man again, six being magick, and eleven being a bridge between worlds. It was like I was being shown that there was an alternate route to a higher consciousness through other numbers than those which society currently enshrined.
12. My spirit guide can be communicated with via symbols of crosses, particularly ancient Celtic crosses. It took a visit to Ireland to discover this, but I have since found it useful in this country too. I haven't found out why this is so yet.
13. Wounds from the past can be healed by acts of redemption in the present. I found this out when I was encouraged to clean up a local pond. I took a day off work to do it. No-one saw it, no-one helped me, but when I had finished I had healed a deep distant scar from yesteryear.
14. The Arthurian metaphor works best for me. The symbols of the dragon (spiritual energy), Merlin (celestial energy), Arthur (earth energy) and all those associated medieval concepts – these are the images that I work best to interpret and bring through into my magickal learning. There is no value in my spending time learning any other symbol system or lore.
15. The star Sirius has emerged as an important energetic influenceon many things – it affects fertility, offers protection from harmful radiation, is a facilitator of the enlightenment process, radiates a blue light that resonates with our throat chakra, and it provides a strong motivational energy.
16. Weather systems are very complex and shouldn't be toyed with. It almost didn't need saying, yet I learned a valuable lesson when I tried it.
17. Crystals and incense are valuable tools for creating the right atmosphere, and for taking the burden when performing magickal rituals. I am now well stocked with both and appreciate their value after extensive use this year.
18. Giving promotes the right state to receive. This year I have done a lot of energy healing on humans and sacred sites. I have also done more charitable work than ever. All of this has been done unbidden and I in return I feel that I have been offered more gifts than I can possibly take on board. I hope to continue with this form of work.
19. Using the proper respect when dealing with sentient entities has led to easier access to their knowledge and beneficence.
20. Coloured energy lines can be used to reveal a picture of the energy status of a site. For example, black lines indicate an unhealthy influence on the site, whereas white, gold and purple lines are very positive and healthy. This is an area that deserves a more detailed examination next year.
THE HARDEST LESSON
In amongst all of the good things that happened there were some hard lessons. If I were to resolve all of those lessons down to the one important factors that is going to change the way I view life then it would be this…
Warning signs should be heeded.
The leprechaun energies of Ireland taught me that. Now I pay special attention. Signs generally are more worthy of our attention, especially if we are following the 'flow of the universe' through the 'wheel of the year' (see glossary). The more in attunement with Nature, the more we should pay attention to her signs.
The consequences of ignoring signs deliberately can be dire and dramatic.
NEW PATHS STARTED
When the Wheel of the Year turns around to a new year it is very difficult to see where the rotation of the wheel will take you on that journey, or what wonder you will pass on the way. This year here are some of the new paths that I have ventured down, or threads that I have picked up from previous years' work.
Spirits (including Siddha). Specifically I have become attuned to and aware of a spirit guide. Beyond that I have extended my awareness to include a spirit helper for healing, and have acknowledged a spirit guardian. Up until this year I would say that I was one of the last people who would have acknowledged these forces, yet they have graciously made their presence known when requested to do so, and I have received nothing but help and kindness from them.
Shades. I had no dealings at all with death energies of energy forms until Kal relinquished his dealings with them part way through this year. Then, from that moment on, I seemed to get requests to learn about and deal with shades. Shades, as we denote them, are the remnant energy forms of spirits that once inhabited human bodies. Having moved on they can leave a form behind unless this energy is grounded properly (as it was in earthen mounds in ancient times through ritual and right attitudes to death).
Ash staff. I have found and restored an ash staff this year. It is now one of the most treasured objects that I take with me to sacred sites. My interactions with the staff have been crucial this year, and it has become a powerful druidical tool for me to wield out in Nature.
OLD PATHS DISCARDED
Of course, no path is ever completely discarded – it is only passed by on this journey. Later in the journey the path may re-appear. However, these are the aspects of my spiritual journey that I have chosen not to pursue further unless I need to.
Crop circles. After finding that they were created by extra-terrestrial forces and then filtered through Siddha, we gave up trying to understand their relevance to us on our spiritual quest. They remain an interesting quirk that I predict will end by 2013.
Tarot. Although I have found a talent for using the cards I have found little use for them despite believing that I would. I am not discarding them completely, and I encourage anyone to use them if they would be of value, but for me they have little use compared to the inter-relationship with spirit forces. I think the cards are just a means to access this same information anyway, and I now prefer a direct spiritual connection rather than a symbolic one. Again, I re-iterate, they have their uses, but I don't see much use for them myself. Watch next year be totally dominated by tarot now!!
THE UNEXPECTED
There always seems to be something unexpected arising on my journey. This year I have been surprised by getting involved in the following things….
Shades and spirits – thought they we a bit of nonsense, actually, but found I was very very wrong. Might all still be in my mind, but if that's the case then my mind is very very wrong!
Charity work – I wasn't one for doing "good deeds" until this year. Then gradually I have been finding myself saying 'yes' to more and more events, and going off doing things just for the sake of it and without recognition or reward. Most unlike me! But I like the new me.
Psychics – I met a psychic and listened to him rather than laughed at him. Well, I could hardly laugh at him now that I was talking to spirits myself! Anyway – turns out he made a great deal of sense, and has been very insightful. I am pleased that I was led along this path to meet him.
WHERE THIS LEADS ME
Looking back I think that all of this leads me to begin the next year by turning my attentions to the following areas:-
Colour dowsing – I need to know what the colours mean (for me) and what colours can be found in Nature and specifically at sacred sites.
Sacred geometry – I kind of left this one hanging, but I mean to dowse for the sacred structure of stone circles and see if this has an astrological correspondence.
Earth energy grid – I want to determine why certain sacred sites seem to be linked together energetically, and if those links are damaged I want to set about repairing them, to restore the sites to their full working capacity where possible.
Book – yes, folks, I have been 'advised' that I should write a book. Never one to question the muses I will be putting pen to paper (or fingers to keyboard) almost as soon as this post goes live. I don't even know what it's about yet, but I'm hoping 'unseen forces' can help there. I hope to post status updates through next year.
SUMMARY
Of course next year I will continue to follow the seasons and the Wheel of the Year, but I suspect I will not be as keen to mark every full moon. Yet the full moon is definitely an indicator for me that the energies around that time can be put to good magickal use and I will continue to preference dates close to full moons as opposed to their strict calendrical dates.
This year has been the most remarkable year of my life so far. Thanks, as ever, to my faithful sidekick Kal for his courage, inspiration and motivation - he truly does make this all worth the effort. Thanks, too, to those who have helped me. That includes you. dear readers, who have have witnessed my remarkable year on these pages, and I hope that you too have been inspired to go out and make your life's quest as meaningful and magickal as you can. I am looking forward to what next year will bring if only to see if it could possibly match the wonders of this year.
Happy New Year, folks.
Gwas.
Related posts:-
Section 7. Summary of the Year
In order to organise our thoughts Kal and I came up with some questions the answers to which we hoped might summarise the way that year has gone for us – what were the bits we expected, what exceeded our expectations, and which things arose to meet us on this path that we didn't anticipate? Here are my answers to this year's questions.
What did I think I was going to learn?
Whether specific periods of the year are more energetic than others, and whether those periods align to the calendrical eight-fold year.
How stone circles work in terms of their energy
Whether specific geology affects the energetic responses from sites
By the summer of 2009 I had already established to my satisfaction that there was a difference in the strengths of energies at the Spring Equinox and Summer Solstice. I was sure that there was more powerful sun energy (i.e. stronger male energy) at the Summer Solstice. The Spring and Autumn Equinoxes were very similar in strength, and were a balance of male and female earth energies. At the Winter Solstice the male energies were very weak, as was the Sun. The female energies fluctuated only in relation to the strength of the Moon and the input from nearby trees, again weaker in Winter.
Determining any objective means of measurement was difficult, as our own energy levels seemed to be a factor in how well we could dowse or do energy work at a site, however a scale of measurement (strength from 1-10) seemed to work for the purposes of obtaining some data that could be compared between sites. The solstice and equinox dates depended upon the quality of the Sun to determine the amount of additional energy was at the site compared to our visits to them on other dates.
The Celtic Festival dates (Lammas, Beltane, Samhain and Imbolc) in between those times were much harder to figure out. These dates seems to depend upon the position of the Moon for their effects upon ancient sites., rather than the Sun's effect. I will be posting much more on this soon, complete with a table of the relative energy levels at various sites dowsed this year.
Further theories have emerged concerning the operation of energies at stone circles and other sites too. See the Earth Energies and Ancient Sites Summary posts for details on those.
We have kept a weather-eye on the geology of sites whilst dowsing this year. It started for me in Carnac when I discovered that the stone rows were placed along a shelf of rock quite different from the surrounding geology of the rest of the nearby coastline. We have concurred with the popular dowsing theory that geological faulting is important to the situation of ancient sites, as is often the presence of water, but we do not wholly agree with the necessity of water (or a 'blind spring' formation) being present at all ancient neolithic sites. Some major sites such as Stonehenge and The Rollright Stones do have this water formation, however, and we think these popular sites may have led to the popularity of the idea amongst the dowsing fraternity that such a formation is necessary to a strong energy site. We do not find this to be true.
What's been the surprise?
Crop circles being designed by some intelligence beyond the confines of this planet – expected them to be of human design and manufacture.
The energetic and healing potential of running water – Pistyll Rhaeadr and Viktor Schauberger convinced me of this at different ends of the year. At Pistyll Rhaeadr waterfall my wife's twisted ankle was healed in minutes. Later I read Schauberger's theories on the properties of water and I understood how this could have come about.
A spiritual pilgrimage being worthwhile doing, and not some soulless religious historical trail as I had imagined it to be.
Astrology - There is a correlation, a link, between the relative positions of the stars and a human being. My natal chart is stunningly accurate in assessing my personality traits. Kal and I have also discovered that we are energetically linked to particular planets – Kal to Mercury and myself to Venus. We are more energetically 'loaded' or 'charged', and more energy work is possible, when our respective planets are visible. I have tracked this since the beginning of the year and have each dowsing response confirms this.
Elemental beings and cloud sylphs – I see some this year on four separate occasions and each time I was stunned by the effect – this was no mere simulacrum. Seeing faces in the clouds must be the third and conclusive qualifying factor in any signs of madness developing – that much I do appreciate, but nevertheless, they have been present at quite specific times of high energy.
Section 6 : Esoteric learning
Originally I called this section 'Miscellaneous' but on reading back through it again I thought that moniker did it a dis-service, because the information in here is really more about various pieces of esoteric learning that I have come across in the last year. Each piece is a piece of a larger puzzle. Each piece offers a tiny glimpse of this larger picture that I recognise now as Nature.
Many of the topics I had dismissed long ago when I had first looked at them in my youth. Coming back to them in later years, with more knowledge, more access to knowledge, and greater resources available to me, I have found that most of the topics have some element of value to me. I am always aware, however, that each subject in itself could consume a person and drive them to distraction, so I take their practical essence, learn some basic techniques or practice, then leave the wilder and wider areas to those who wish to become absorbed by them. To me they are all pieces of a larger puzzle.
6-1. Crop circles: Definitely something odd about them. Created using earth energies, and designed by some other unknown motivational force which seems to be external to the Earth ('extra-terrestrial' being in the sense of some intelligence that is not born of this planet, whatever that may be). I participated in some way in the triggering of the creation of a crop circle's formation somehow when I passed by the place where one would shortly come to be produced. The site was in between two established earth energy sites on a ley line that I had visited that same day. Crop circles patterns are made to trigger a revelation in human consciousness, Whether this be on an individual or a more global basis is as yet unknown.
6-2. Tarot cards: I tried the tarot cards again properly this year, and under the guidance of Kal, who had learned them thoroughly. What I was surprised to learn was that they are a useful means of obtaining more information about the qualities and intentions of the sentient energies that we encounter. They are not, as we originally thought, the product of a deranged imagination. As one might expect they also are capable of reflecting one's own psychology very well too, and have been a valuable tool for self-analysis. However, I use them sparingly, and am quite appalled sometimes by their accuracy. I started using a Celtic Cross formation, but went on to devise my own layouts for the cards, as befitted the situation I was asking about. I now exclusively use the Druidcraft Tarot from Stephanie & Philip Carr-Gomm, only because the symbols make sense to me.
6-3. Salute of the Sun: Both Kal and I have observed separately and together a phenomenon that we call "The Salute of the Sun". This refers to the sun coming out when we do something that progresses us along our spiritual path. For example, we may be visiting a stone circle on a cloudy dull day, but the moment we make our connection with Nature during meditation, and then ask a question whose answer indicates a new direction or an answer that will help us know more about a subject, then we have noticed that the Sun comes out from impossible angles to shine upon us. This has happened so often now that we can no longer simply call it coincidence. As we have trained ourselves to recognise significant signs, we feel this is the most significant, as it is never "looked for", but always makes us feel reassured, and we smile to ourselves.
6-4. Intuition: Following intuition has guided us very well this year. There is little point in trying to intellectualise this. Something that started out as something to try has become something of a waymarker on our spiritual path. If we follow intuition it guides us well. If we ignore it then we have to work much harder to achieve things. If we follow it, new opportunities appear – if we ignore it they close off. Simple as that.
6-5. Sacred Geometry: Gardens and building designed by noted Freemasons contain elements of sacred number and geometry that enhance the energetic potential of their sites. They encode these principles and retain the ability to attract people, power, good fortune and wealth. This is the art of Feng Shui in action. This has informed us that there was a knowledge of the power of place and energy in the Western Mystery Tradition as well as the Eastern, and that it was highly active until quite recently, in the 20th Century, when these principles were seemingly ignored and "sick" buildings began to be built.
6-6. The Shining Ones: Whoever the Shining Ones were their principles of geometry and sacred site building are inherent in the design of ancient sites. When we dowse about the influence of this little-known group of humans upon the design of ancient sites it always comes back that their principles were encoded in the designs, but that they were not personally or directly involved in the building of most of the 'provincial' sites. We still have to check whether they were involved in the building of the major sites, such as Stonehenge. Still a mystery!
6-7. Healing With Water: Hydrotherapy has less to do with the mineral qualities of water, than with the energy generated from its source, the amount of light it is subjected to, and its movement. This concurs with my research of Viktor Schauberger's work, as he notes that the movement of the water is paramount in determining its qualities. The amount of radiant energy that the water consumes seems also to be highly relevant – the sunlight and moonlight appears to affect the healing qualities of water greatly.
6-8. Orbs:  I never gave Orbs a second thought until I photographed a few accidentally. They keep being photographed on power centres in sacred sites. We don't know what relevance they have right now, but we will have to do some more research into this topic. They cannot simply be dismissed as specks of dust, or the reflections of light on the camera lens. I took two identical pictures a second apart (guided by intuition) of the chamber inside West Kennett Long Barrow in identical conditions. One has no Orb, the other shows one quite clearly! This, I cannot explain.
6-9. Animal interest: Rather annoyingly cows are over-actively interested in dowsing, for some reason. This has disrupted our dowsing trips on a few occasions because if you let them they'll come right over and actively interfere with the dowsing process, blocking your path, chasing you away, nudging your arms. It's quite strange! What DO they think they're doing?
6-10. Sound and colour frequency: At Long Meg stone circle we proved to ourselves that it is possible to correlate sound frequencies with the chakra rainbow spectrum of frequencies, thus demonstrating to us a correspondence between light and sound frequencies. Interesting, but has led us nowhere else yet.
6-11, Crystals: As well as being able to transform energy from the earth into a subtle energetic form (possibly via the action of water), they also have the power to concentrate that energy and store it. This makes crystals almost indispensable when working with subtle earth and radiant energies. I intend to study this further to try to describe this quality of crystals in a much more scientific way, but for now I merely want to point these qualities out, as this is the truly important information.
Gwas.
Section 4. Astrology and Astronomy
This is the fourth in the series of posts that review the findings of this year. In this particular post I am discussing the relationship between earth energies, human energy fields and the wider cosmos.
I have used the classification of "astronomy" to describe the information I have discovered (of course, 're-discovered', or 'uncovered' would be more appropriate terms) that relates the movement of the major planetary bodies of our solar system to the energy fluctuations in our remaining ancient sacred sites. Very little "astrology" comes into it, really, except that we describe the influence of such bodies upon ourselves.
4-1. Star energies : These types of energy include the influence of planets, which have more effect than we had realised. At the beginning of the year we discovered that "star" energies are also being drawn down into stone circles, just like sun and moon energy. Later we discovered that it was the energy of specific major planets that was being drawn into the circles, or cast upon them. In particular I found a couple of instances where the energy of Venus was being used, and this was at stone circles where the design of the circle itself was based upon the sacred number of that planet (see table below).
4-2. Sacred Numbers : There is a relationship between the planets within our solar system and numbers. This correspondence was obtained by dowsing for this relationship. The number relates to an association between the number and the planet, and that correspondence has a link to the geometry of sacred sites and their dedications. For example, a site dedicated to the goddess 'Venus' is found to have a structure that is based upon the number five.
Here is the list of correspondences:-
          1 = Moon
          2 = Mars
          3 = Mercury
          4 = Earth
          5 = Venus
          6 = Jupiter
          7 = Saturn
          8 – Uranus
          9 = Neptune
        28 = The Sun (7+6+5+4+3+2+1)
4-3 Planetary Influence: I learned this year that Venus has an influence over my energetic being. When it is present I am "stalked" by the white light of its presence (seen physically by some people), and am drawn to sites that are in some way connected to it, either geometrically or energetically. Kal is influenced by Mercury's presence.
4-4. Site 'alignments': Some sites are solar-dominated, whilst others are lunar. I react well to lunar sites, whislt Kal feels better at solar sites. Balanced sites suit both of us. Sites that are aligned to the sun have dominant male energies, whilst those that are aligned to the moon have female energy in abundance. No sites that we have found so far are predominantly aligned to any specific star, constellation or planet. In 2010 we will check this more thoroughly, however, as it's not a question that often gets asked.
4-5. Astrology: My astological natal chart is incredibly accurate in describing my tendencies and characteristics. It goes wrong when the topic is broadened to "how my type of people" think and feel, but when it refers specifically to me, and describes the influence of specific planets upon my birth, then it would seem to me that such tendencies have indeed been "stamped" into my very core, and are still being exhibited some 40 years later.
Gwas.
Section 2. Dowsing and Earth Energies
A lot of work was done by Kal in particular this year relating to the modification of energy centres within houses. Some people call this "house dowsing" or "healing sick houses". It relates to a concept called "geopathic stress", but we have found that this "stress" has more causes than simply a water course running under the house. There was a fantastic checklist produced by a British Society of Dowsers member in the December issue of the group's quarterly magazine 'Dowsing Today', which lists these causes, and I will post more on that soon, because I think the information bears repeating and distributing.
I was lucky enough to spend a day at Carnac in France this summer. It was a most glorious day and highly productive, but I absolutely must go back to spend longer there. I feel there is more to be learned still from this massive and impressive site. Other interesting sites this year include: Druid's Circle above Penmaenmawr; also Nine Stones Close and Nine Ladies stone circles in Derbyshire. I will publish a full list of sites as one of the summary posts in this series.
Here are some of things we learned about dowsing and earth energies this year:-
2-1. House dowsing:
We can dowse houses accurately, either locally or remotely
We can either send and receive energy to specific points in the house, providing the house has not been "sealed off" and permission is given
We can modify the energy formations on site
Crystals can be used to repair this energetic state, and to change unhelpful or misaligned energies into helpful and aligned ones
Plants can be asked to contribute to this
The beneficial effects take some time – depending on how far the energy has to convert from harmful to beneficial, this can take from hours to weeks to achieve. Also dependent upon the amount of new positive input into the formation(s).
The Moon or Sun can also contribute to the energetic change, acting as a catalyst for the change, and also providing either male or female energetic input.
2-2. Flat recumbent stones attract female energy (moon), whilst pointed stones attract male energy (sun). We don't yet know which elements of a site attract star or planetary energies, but we know they are present at sites, especially stone circles.
2-3. Kal found that certain geologically faulted locations with water running through them can pin energy to a place.
2-4. Ironwork and iconography (in the case of stones in Brittany I found that it was Christian crosses) can restrain the energy of a standing stone, reducing its aura (field of effect).
2-5. Earth energy spirals are created from sacred geometrical principles and number. Even manifestations created by us have the same properties. Of particular significance has been the discovery that stone circles are based upon sacred geometry in their design. For exmaple, Moel-Ty-Uchaf stone circle in North Wales is based upon a pentacle,or five-sided shape. I have found that this is linked to specific "deities", but more importantly, that these deities are actually one of the planets. The pentacle therefore is associated with Venus, which itself describes a five-sided geometrical figure around the earth in its annual travel.
2-6. Power centres are the central point of two cones of energy- one going up into the air, the other going down into the ground. Also confirmed by Viktor Schauberger's research.
2-7. Avenues or rows of standing stones have male and female energies intertwining, and travelling the length of the line of a stone rows of standing stones.
2-8. Tumuli can provide a terminus pointfor energy to sink back into the earth. As an example, I found this double mound pictured below was a terminus point for the energy running through the Kermario avenues of standing stones at Carnac in France.
2-9. Cup-marked stones often provide a rising point, a focal point or source of earth energies entering into sacred sites. Some standing stones that are cup-marked are a map of the energy power centres nearby.
2-10. "Hand spread" patterns of energy fields can be dowsed on the side of circles where energy is being dispersed out of the area. They indicate areas of high fertility energy.
2-11. Many neutral alignment leys travel the length and breadth of lands, and have accumulated sacred sites and churches along them. I suggest this is similar to the geometirc patterns that many dowsers and researchers have discovered overlaying the British Isles, and some say, the whole of Earth (cf. John Michell)
2-12. "Martin", "Margaret" and "Anne" are other synonyms for the male and female energy lines surrounding national leylines, as well as the better-known "Michael" and "Mary" energies. This year I traced what I call The St.Martin Line running from South-West England through France and into Italy.
These findings should be viewed in the context of the complementary section coming soon on our findings at Ancient Sites. I hope next year to concentrate on water dowsing, or rather, dowsing the energetic properties of water, sap and blood. Next in the series – Part 3 – I will be summarising our findings relating to tree energies, elemental spirits and death energy.
Gwas.
Bryn Celli Ddu: Monday, March 16th 2009
I don't know what possessed me to go the almost 75 miles to Anglesey straight after leaving work last night. It's not something a sane person would contemplate, but I was on my motorcycle and felt an urgency to get there before the sun set. Sunset time was scheduled for :
Date: 16 Mar 2009 / Sunrise: 06:28 / Sunset: 18:22 / Length of day: 11h 54m 42s
I arrived at some time close to 6:30 pm and walked to the mound in the slowly-forming twilight. I spent about ten minutes inside the mound dowsing for places to sit, and what the strength of the energies were at that time of day (although I had no previous marker to base that on). I soon came to feel that I wasn't in the right place and decided that I should leave my stuff inside whilst I went outside.
In the open air I felt colder but more relaxed. I dowsed for the best place to sit in order to meditate and was directed by the rods to the top of the mound. There I sat and began to switch off. For some reason I was facing West. For some reason I was staring at a bright star which seemed to be the only one in the sky – certainly the only one I was noticing.
As I stared at it I noticed something unusual : there appeared to be three points of light to this star, and they formed a shape. I stared more intently. Yes, definitely a shape. A white shape with crescent horns protruding from the upper left hand side, and the two smaller points of light forming a forked 'tail'. It reminded of the white horse of Uffington in reverse, for some reason:
I blinked and blinked again. No, still there. I got my camera phone out and took a picture. Zoomed in I could see it through the lens, but after taking a picture the result showed nothing but flecks in a grainy dark sea. Still the image remained prominent in the sky. Was this a sign? I determined to memorise the shape and set about emblazoning it on my retina and into my memory. This was, I felt, why I was here. From the top of the mound I could feel undulations of energy pulsing upwards through me. This was special, I thought. I knew there was some connection I had with Venus at the moment, and so I dowsed whether this was Venus I was seeing. Yes. Then this was even more interesting. After ten minutes the cold really hit me and I decided to get along home like a sensible person. I left a gift of tobacco and my thanks, then rode home with freezing hands but high spirits.
Picturing Venus
When I got home I immediately knew I had to capture the image that was still so vivid in my memory, but also I had a desire to know more about this star. Which zodiac sign were we in at this point in the year? Pisces was giving way to Aries – we were on the cusp. I have no concept of the relevance of that, but it did seem to me that the image I saw had elements of a horns atop a fish-shape. Noteworthy, but nothing that made me have any greater understanding of a significance at this stage of my development. Here's the shape I drew trying to capture the area of light that the star was spanning:
Why had I needed to ride out to Bryn Celli Ddu? What was the reason for needing to go there?At the time I had no clue. Now I understand why – it was so that I could use that shape later in the week when I was to visit a stone circle above Penmaenmawr at the Vernal Equinox, but that story will be posted soon enough.
Why was that star so visible from that place – because it's so westerly? Venus was the last element of twilight this night. It felt magical dowsing my way to the top of the mound and I could feel energy being pulsed up through the top where I sat, perched over the western edge. All I could see was Venus. All I could look at was that bright star. And then I saw three points. Then a pair of horns bent upwards from the main bright point to form the symbol pictured above and below. It stayed in that formation and shape and intensity until I left. As I looked back it had returned to a single point and other stars were beginning to make themselves seen more clearly. I had been there at just the right time to see Venus at her most distinct, and she showed me something of herself. I asked if it was a symbol for me, a power glyph or something like that. I dowsed a strong yes when I asked whether I could use it for energy work. I nearly dropped the rods! Use it for what!!?
Venus: her names and symbols
Venus, the Morning and Evening Star, is forever associated with love and relationships. I was interested to find out how Venus had been named, represented and revered down the ages so I started a little research going. I drew the symbol I had seen many times, and in as many ways as I could muster. Here's a close representation of what I saw. Venus is often seen as a diamond shape, or a crescent due to her relationship with the light, my symbol was not like that.
The Venus symbol seen in the Western twilight a week before the Vernal Equinox
So I began hunting around to see what other symbols Venus had been represented by – was my symbol something traditional, or something just for me to represent her by? I scoured the net for information. Venus was the planet that orbited the earth 8 times in the time it takes our planet to orbit the sun 5 times, I had heard:
"...if Venus orbits the sun 13 times while the earth does 8 times, then Venus must pass us 5 times during those 8 years." (John Pratt's Astronomy site)
Venus' 5-time passing is also the reason why the pentagram is one of her symbols, as depicted below in a diagram from a masonic text. Chinese Traditional Medicine (TCM) often depicts if five element system by a pentagram in a circle.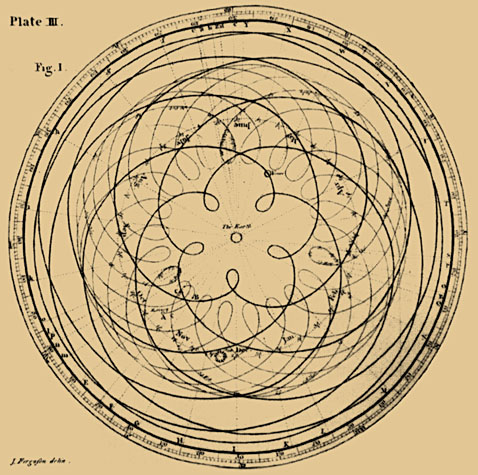 The pentagram has a great deal of sinister and occult history associated with it, as does the Morning Star and Evening Star references. Lucifer, the fallen angel, is often considered to be The Morning and Evening Star, however, that designation is also held by many other pivotal characters such as the Greek Hesperus (or Phosphorus), the Babylonian goddess Ishtar, the goat-headed Baphomet beloved of the Masons, and also Aphrodite, the Greek goddess of love. Venus has many names, and those are just her written historical names.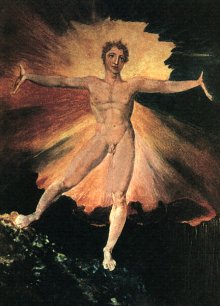 Venus and Astrology
Venus is the ruling planetary influence of the astrological signs of Taurus and Libra. From Wikipedia:
"Venus is the modern ruler of the 2nd and 7th houses, but traditionally ruled the 5th and 12th houses – the 5th house of play and the 12th house of self-undoing! Unsurprisingly, Venus is said to have 'joy' in the 5th."
The astrological interpretation of her influence recently (i.e. going into retrograde motion) is that she brings the possibility of undoing your own comfort and pleasure within your relationships, and despite my wish to completely ignore this element of astrology I have to confess that under her influence in the past week I have alienated a friend and had a blazing row with my wife! Anyone who knows me well knows that this is not something I am particularly prone to, and it has certainly taken me by surprise! I am still stubbornly refusing to acknowledge this aspect of Venus, however, so let's move on.
I have five stones in my Venus crystal layout. Coincidence, of course. I dowsed for clearer answers: the crystal layout is specifically for capturing the energies of Venus whilst she's passing. When she moves away then I'll need other crystals and other geometries for whichever other sympathetic energies are nearby. Don't know what yet – some luminary. Could be any!
The Moon on that night was waning gibbous heading to the New Moon. Pretty much like in the picture of the Taurus symbol above.
Gwas.
Follow something you don't believe in until you do.