Posts Tagged 'wheel of the year'
Even though I was supposed to wait until Imbolc I did my first Camelot Oracle draw. It was only supposed to be a test so that I could become familiar with the cards and the unusual layout of the pack on the "Lands Adventurous" (the eight sacred sites in the Arthurian panoply), but you know how things go… I got carried away and did a real reading. I chose to do "the big question" – after all, if you're going to test something – test big! My question was:
"How will I fare on my spiritual path for this coming year?"
Thanks to the open-ended questioning style that John Matthews' accompanying guide suggested this was how the request emerged. It was a powerful question.
The Champion
Firstly I chose my champion – an archetype that would represent a unified approach to the answers I was seeking. I felt that Galahad would be obvious choice for this year although I have not confirmed that in my spiritual work yet. Not until Imbolc will I know whether this year is really a Galahad/Gwalchaved year or not. Nevertheless, he was the card I manually chose to represent my work this year. He was placed at Camelot.
The Path Card
The card that was chosen as defining the nature of the journey this year was The Doubtful Path. This told me that the path this year would be filled with questions, doubts and points during which I would need to make decisions on how best to proceed. Already I could see that the year would be challenging. Onwards!
My summary of the year could easily take up several posts, but I'm not going to do that. Instead, I'm going to highlight the many important distinct elements that have taken place this year, and then provide links to the posts that illustrate these elements.
On the whole it has been an amazingly packed, dense, active year. If I were to summarise the whole year in one sentence I would say that this year I have 'come of age' in my druid work. I have accepted a level of responsibility, been given many new 'powers', skills and abilities, and I have seen a startling increase in my use of intuition. There have also been many surprises. I began the year expecting that I would be working with one type of energy which actually turned out to be something else. I have been to many familiar places, and some new ones too. Each time I have been astonished by the power of the experiences I have had.
It has been a truly rewarding and remarkable year for me, and for Kal too, I know, and yet again I couldn't have done half of the work I do without his enthusiastic and sometimes madcap influence. So pleased to have such a great friend to work alongside.
Here are the main elements of my year, in roughly chronological order:-
—————————————————————————————-
Year of the Dragon.
First there was the dragon vision at Dinas Emrys – a vision of a Dragon at the "Solstice Centre". This idea led me on a quest to find the dragon energy or spirit form that might exist at the centre of the land, and to do that close to the Summer Solstice. The vision of the dragon at the centre of the land, followed by seeing the dragon sylph in the clouds at Moel Ty Uchaf.
I was then urged to visit Hanger Hill in Sherwood Forest for a second time in the year to find this centre, and there I had a strong vision of the dragon energy covering the whole island. Finally  at the end of the year I would see the sleeping dragon in Spain and wake the fire dragon when I linked the two mounds in Antequera with my friend Mike.
POSTS: The first dragon vision, The second dragon vision, Dinas Emrys red and white dragons, Spread of the Dragon, Hanger Hill, El Torcal, Fire Dragon of Antequera
—————————————————————————————-
Renown
 "I will be spending the year seeking out sources to increase my personal power".
That was the prediction I made at the start of the year. How much did that come true? I have certainly felt that I have followed a path that had led to an increase in my personal spiritual power.
Renown has come to the fore in many ways – increased recognition (popularity of the blog), increased personal power (magickal energy), and through research into many historical and mythical figures that are closely linked to my own history.
POSTS: Imbolc, Careg-Y-Big stone and fame, Robin Hood and renown,
—————————————————————————————-
Arthurian Archetypes
This year I expanded the number of Arthurian archetypes that I work with to four. 2010 was a Merlin year, 2011 an Arthur year, and this year has been a Gwalchmai year. I thought it was Merlin at Lud's Church, but now I realise it was a knight figure and that was Gawain/Gwalchmai.
Time and again I would refer to The Green Man and associate this with Merlin. Looking back I can see that actually this was totally the wrong association. It should have been Gwalchmai all along!
POSTS: Arthurian Archetypes of the Cross, Remote Dreaming at Luds Church, Seeing Like The Hawk, The Hawk and The Dove
—————————————————————————————-
Ancestors
Start of the year was the start of the quest at Vale Crucis. Being directed toward Roscommon, Ireland by the shade of St Duignan. Finding my ancestral home, and its warrior kings. The wonderful and strange encounters in that land. Finally feeling a true link to the land. The rewards of this journey were instructions about how to access ancestor energies that I had received as 'a download':
The first stage to unlocking the energies is to remember the quest that gained them, especially the moment when they were downloaded into me when I held the Eel Sword at the edge of Lough Key.
I should let my mind go free and let it link with the land. It also represents will. Some willpower is required to unlock these energies.
Use a feeling of joy to unlock the access to the ancestor energies once linked to the land and mindful of the downloaded energies.
POSTS: Ancestor Tarot Reading, The Burial Site, The Vision, Search for a Sword, The Abbey, The Throne, Forging a Sword, The Battle, The Coronation,
—————————————————————————————-
Influence of the Stars
The link between my energy body and the stars that influence it. It started with Venus, but at the end of the year I was shown other specific stars that form a personal astrology – specific stars that influence some of my emotional traits.
The work came full circle on that subject. I now understand the very personal nature of astrology and its energetic effects.
POSTS: New dimension to stargazing
—————————————————————————————-
Predictions for crop circles
I predicted that this year would see the last of the "real" circles. Was this true? Perhaps only next year will tell for sure.
Certainly it has been an incredibly poor year for circles to say the least. People put that down to the amount of rain. I don't know what caused it – but oddly I felt a compulsion to predict it at the beginning of the year. The quality of the circles was astonishingly poor – I felt like most of them were clear and obvious man-made circles, which is different to other years.
POSTS: The Prediction, The Realisation
—————————————————————————————-
Re-balancing via the Sun
At Imbolc I was told by the spirit of Brigid that I needed to re-balance. I would do this by allowing more sun energy into my energy field this year. I have certainly spent much more time using male/sun energy than in previous years where I was almost exclusively using female energy forms. An orb makes an appearance at The Bridestones as though to confirm this requirement from spirit.
POSTS: Imbolc 2012, Egypt 2012, Winter Solstice 2012
—————————————————————————————-
Map dowsing
At the Spring Equinox Kal and I did a map dowsing experiment. We decided to choose a place to visit anywhere in the British Isles. When we compared notes we had map dowsed exactly the same square mile.
This is a skill that I have significantly improved this year. In fact, in many ways map dowsing started my whole year off with a bit of recuperation and some early site visits that would open a whole side to the country that I had neglected.
POSTS: Map dowsing my recovery, Spring Equinox 2012, Finding my Spiritual Centre, Heart of Paris
—————————————————————————————-
Becoming a Druid
Feeling like I had been "upgraded" to the "oak" level – the druid level in Ireland. Understanding that this would mean turning my thoughts to teaching the information I had gained, rather than just obtaining it.
Also, a new sense of responsibility and a duty to give something back comes with this new level of ability. I have felt this as a deep connection with the land, and a desire to plant trees.
The final aspect of this evolution was to discover that my druid name was closer to "Vassal" or "Son of Merlin" than "Servant". This moved me a stage closer to that energy frequency. I feel just a touch more integrated with that energy now.
POSTS: Anglesey Lecture, A Chance to Praise, Healing History, Coronation Rath, Son and Servant
—————————————————————————————-
The Elemental Year
Can utilise the elements better as they move around the year.
Earth from Feb to May;
Fire from June to Aug;
Water from Aug to Oct;
Air from Nov to Feb.
Later in the year I began to say "Sky, Land, Sun and Sea" instead of Earth, Fire, Water and Air.
POSTS: Considering the Stations
—————————————————————————————-
Powers of the Staff
Finding out that my staff has its own powers courtesy of the Elemental Masters of Tinkinswood. It became an indispensable and valuable tool this year. I have been guided to learn about the powers vested in it, and am now able to utilise those powers to define energy changes in an environment. This has been incredibly useful, but I have been led to realise that some of these powers have still to be mastered, and that invoking them is not enough. They also need skilful use.
This year more than ever people remarked on the staff and how beautiful it looks. I nearly lost it several times, but on each occasion I made a supreme effort to recover it. We have a strange relationship – one in which I mustn't take it for granted. It has its own inherent powers now.
POSTS: Staff Powers 1, Staff Powers 2, Staff Powers 3
—————————————————————————————-
Bran The Raven & Seeing like a hawk
Working with his presence and guidance all year. I have been to Dinas Bran so many times this year, and each time he has been there to assist me.
This was part of the Gwalchmai training. Ariel viewing, seeing hawk lines, silvery trails in the landscape. I would be taught by Bran the Raven about some techniques for remote viewing. He taught me how to use the raven's bird's-eye view to see far away, and how to project my attention to a far point.
I didn't know why at the time but later I came to understand that remote viewing wasn't just for acquiring knowledge of events distant in space but present in time. It could also be used for finding and healing past events.
POSTS: Seeing like the Hawk, Bran and The Metamorphosis of the Raven, Bran calling, Seeing through the eyes of Bran, Me and Bran visit Dovedale
—————————————————————————————-
Opening the Third Eye
This long-term quest was presented to me to encourage me to spend more time trying to see psychically rather than dowsing for answers. I think it has worked because my visions are more frequent and much clearer.
I have also begun to feel the energies, rather than needing to dowse for them. Finally, I have begun to trust my intuitive responses and intuitive information much more than ever before.
POSTS: Pineal Gland symbolism and signs, Song for Merlin 2, Quest for the Third Eye
—————————————————————————————-
Re-union
So many aspects of the year's quests and events were related to the idea of Re-Union. At Pistyll Rhaeadr waterfall I was shown that union could mean recovering past energies that were left like stray threads through our lives,
Later, in Ireland, I was re-united with my ancestor energies,and integrated energies from people connected to me in the past into the present to make the present a unified and more powerful whole.
The whole Iona visit was centred on the energy of union – the island resonated with it. I also found out that the colour of Union is fuchsia pink. Odd! The walls around my desk at work have recently been painted this colour by a strange coincidence. It's the first time they've been painted in 10 years, and before that they were beige.
POSTS: The Colour of Union, Merging with Merlin, Re-Union of past energies, Tarot to support Union, Winter Solstice 2012
—————————————————————————————-
Tarot readings
Although I have learned some useful techniques for providing readings for others, the majority of the work I have done this year, and the most astonishing, has been when I have done tarot readings for myself.
I seem to get most out of these readings if I do them immediately before or after a significant quest.
POSTS: Personal astrology, Ancestor tarot reading, Powers of the staff reading, Third Eye quest reading
—————————————————————————————-
Freeing Merlin
I released Merlin energy from the Underworld in 2010. Now in 2012 I was releasing Merlin energy from The Otherworld. I still don't know the true significance of this, other than it required me to engage with some bardic skills, and this has re-kindled a desire in me to re-awaken many of the old bardic skills I used to use, but have since forgotten in all the excitement of my questing.
I had to visit several sacred sites to recover fragments of poetry in Old Welsh, then translate them, put them in order, and learn to recite the poem! I used to play musical instruments, write poetry and be able to recite some of it. I think I need to do this once more, so I will use Winter to begin again because I rather enjoyed the challenge of learning the poetry.
POSTS: A Song for Merlin – Part 1, A Song for Merlin – Part 2
—————————————————————————————-
Aliens, Angels and Giants
Towards the end of the year things veered away from normality and into the kind of territory that I usually enjoy reading about but would not contemplate getting involved in. I got involved. I found that an energy that I had simply identified as "alien" was in fact angelic in origin, and  on Iona this energy had been deliberately infused into a stone that had been placed by a giant who had come over from Ireland. Well, I'll leave that one there, I think! This kind of thing was the very reason I stopped looking at crop circles. Things got too weird!
POSTS: The Watcher, Giants, A Giant's Grave, Angel Hill, My Own Angel
—————————————————————————————-
Campaigning
As might befit a move into the realms of the "Druid" level (my own certification, I hasten to add - I'm not on the OBOD course or anything like that) I have begun to involve myself in local ecological campaigns. I have been supportive of the bees, the ash trees and local tree planting initiatives. I have also been working on a subtle energy level to re-balance and re-energise several sacred sites. This has not been arbitrary work done in passing, but work that I was called to do.
Most of my charitable work I do not advertise here on the site because it's personal, and I'm not trying to tell people what they should do. You are your own example, I believe.
POSTS: The Bee Campaign
—————————————————————————————-
SUMMARY
The year began with a frisson of anticipation. Would this year bring the catastrophe predicted for a long time? Would it bring the energy shift that was a hot topic in energy-worker circles? Would it bring an alignment with a galactic centre and a rush of transformational celestial rays that would sweep mankind into the next generation of being? Well, even in January I had the feeling that the answer was "No". All through the year I was re-iterating this to all and sundry. The only transformation possible is within YOU and initiated by yourself. I have found this year that our personal energies ARE linked to the celestial influences, yet there has been no general "cosmic download" this year. My cosmic download came in May when I visited Ireland.
For me the year has been one of working with The Past. I have been healing energy ripples from earlier in my life, re-uniting my current self with my ancestral selves, and learning about the power of re-unification generally from bathing in its frequency, to discovering its colour vibration, to washing myself in the uniting waters of three waterfalls. The year has all been about re-unification. The energy that has come from this process has been what I call "renown". This is the energy that increases one's personal power. A signifier that this was happening was my move into the druidical final grade – "druid".
Thank you for reading our exploits on this year's turn of the spiral. We are very grateful, and as we await another amazing year beginning in February 2013, we hope you continue your journey with us.
Gwas.
On a path such as mine I have a few rules – "reciprocal investments" you might call them – tacit agreements. The idea is that if I "tune in" to the Flow of the Universe in search of inspiration, then I must be prepared to act upon its motivations. In other words, if I ask "What is there to do?" then I can't argue if it comes back and says, "Go to this place!" I just have to go. No arguments. So, I time my 'requests' carefully, and make sure that I have every possible opportunity to take advantage of such moments because I could be asked to go anywhere.
Your next question is probably, "But why?". Well, my motivation is always to progress on my spiritual path. Therefore, my question is always, "Is there somewhere I could go, or something I could do that would progress me on my spiritual journey?". Then I wait for a response. Who from, you ask? Well, that's where it gets interesting, but I've spoken about that on many occasions – sometimes in a veiled way, sometimes quite explicitly. If you need to know, then check back on previous posts. For now, let's move on with today's tale.
It's difficult to say whether I had put my 'feelers out' or if an overwhelming idea came upon me. It doesn't really matter. The culmination was that I knew I had to go somewhere. I turned my attention to discovering where this was. I had just got back from punishing fitness class and frankly all I wanted to do was collapse and eat unhealthy carbohydrates. Instead I began to prepare for an excursion – I was going somewhere and I'd better resign myself to it. I asked where I would be going and the shape of a familiar tall and steep hill came to mind. Oh great – s tall steep hill – just what I needed! Thanks.
I would be heading to Llangollen and climbing up Dinas Bran.
I wondered whether this was to do with my stars quest, or perhaps it was a chance to renew my elemental connections – something I had been planning to do? Apparently neither of those, as it turned out, but this was what was uppermost in my rational mind as I made my way through the deserted Welsh villages and towns on the way to Llangollen. Monday night, stars aplenty, and not a soul to notice them. Sigh. Hey – TV is a powerful drug. Drug of a nation, if I remember my Disposable Heroes of Hiphoprisy correctly.
A Twist in the Mist
I decided to try to find the road that wound up the back of the hill. In late summer Kal and I had walked around the base of the hill and found this steep and narrow road, and we saw that cars could park much closer to the top than on the town side. Given it was late I thought I would try to save my legs by finding this "easier" route. I hadn't bargained on the fog.
I found the road, but above a hundred feet in altitude the road disappeared in thick patchy fog. The road was barely passable for one car. If anything had come the other way there was simply no way back. A challenge – a test of faith. How much was I prepared to endure to heed the call of Bran? I endured. On the way up the hill I had several moments where I couldn't see where the path was. I had only been up the hill this way one and it had been in daylight, oh and they had been repairing the path so there was a diversion to the normal route. Hmmm.. would I make it back alive or tumble off the sides into a pit of mud and gorse bushes? Half way up I wished I had changed into my walking boots. Now I felt like Kal – climbing in terrible conditions with inappropriate footwear.
Something moved towards me out of the hazy gloom and a scuffling noise was approaching… it was a pair of sheep wondering who would be stupid enough to join them on their hill in the middle of the night. I put my hand up – me, sir, I'm stupid enough.
Making a home in fog
As I reached the top I found the path again. It had been there for some of the journey and then absent again. Now I stood at the entrance to the great fortress  but something was different  There were new paths, and curious piles of chipped slate everywhere. Looks liked the reconstruction of new paths included inside the fortress too. I found my bearings and, after introducing myself again and asking for permission to enter, I walked in.
Inside I felt completely at home. Bear in mind this is late at night, it's dark, and I'm on my own. I felt at home in this netherworld of fog and shadows. Nevertheless, I put up double protection so that I could occupy my mind with more useful thoughts should I feel anything untoward up there. You never know what's been going on since your last visit. It felt redundant, however. I was in the hands of Bran – here at his request. That felt good.
A solitary candle was lit and placed into a crevice in a remaining wall, out of the way of the teasing draughts. This is not something I usually do, but it made me feel less alone up there, and again added to the sense of homeliness. The candle was also a good meditation point to concentrate on until it went out, then my eyes got accustomed to the gloom anyway. Three incense sticks provided me with a working cleared circle. The staff drew the rest of the circle around the swirling scent, and I stood with my staff, poised and awaiting a connection.
Bran's Head re-discovered
My eyes were drawn to one point in the sky even though I couldn't see anything. It was Sirius. I simply knew. For a fleeting moment I thought of confirming it with my phone's Starwalk application, but that wasn't what I needed to do. I needed to keep connected, so I stood where I was and followed the connection. I was drawn along a tunnel of subtle energy that I was now noticing (co-creating) between Sirius and this power centre – the place where I usually found the spirit of Bran here on the summit of his hill.
Then I concentrated on what this meant – an uncomplicated request to whatever was allowing me to notice this connection. It was Bran, and he directed me to my Castlerigg quest which had been to free Merlin from a spherical cage of tree branches. What was the significance, I urged to know? Now it was time to free the Gwalchmai energies. Gwalchmai is linked with Sirius and I should concentrate on doing this for the next part of the year from Samhain to Yule. Gwalchmai is also linked with the West and Water (sea), I found afterwards.
That wasn't the end, though. Even though I was being given a quest to cover the next part of the year from Samhain to Yule, and it was being given early too, there was more. At Yule I should switch my attention to freeing the energies of Gwalchaved (Gawain). He is linked with the Sun and the East.
Looks like I've got my quests early, and a double quest at that! See – if you answer the call, are prepared to work for your rewards, then they are given multi-fold  Saying that, I've got one heck of an agenda lined up for the next few months until Yule. I wouldn't have it any other way.
Gwas
My quest for the previous part of the Wheel of the Year (Solstice to Lammas) was to open my Third Eye. This was quite a hefty challenge, I felt, and Kal had said to me several times (with blowing of cheeks, and shrugging of shoulders) that it would be a lot to attempt in the few weeks between "spokes" of The Wheel. So it turned out to be. The Third Eye opening quest turns out to be something that I need to work on for the whole of the remainder of the year. It's a "half year" quest that will take me up to Yule.
The quest began to take full effect in July. I felt that July was a "good time" to try opening my Third Eye. I took this process to mean that I would be attempting to find ways to enhance my spirituality, to increase my psychic awareness, divinatory capabilities, and to enhance my visions. As I ventured into the month of July the first thing I noticed was this news article about the increase in solar activity forecasted for the month of July:-
"Electromagnetic activity from the sun affects our electronic devices and human electromagnetic field. We are physically, mentally, and emotionally altered by electromagnetic charges from the sun, our body can feel sleepy but also become highly energized.

Psychological effects of CMEs (coronal mass ejections) are typically short lived and include headache, palpitations, mood swings, and feeling generally unwell. Chaotic or confused thinking, and erratic behaviors also increase. Solar storms can drive our emotions and maximize it to both good and bad side – the point here is to be aware of it.

The pineal gland in our brain is also affected by the electromagnetic activity which causes the gland to produce excess melatonin, a hormone which can cause sleepiness but it's also known that some people have opposite side effects, usually those that are aware of the effects." (source: thewatchers.adorraeli.com)
Now, I know a thing or two about the pineal gland. Our old friend Dr Serena Roney-Dougal gives a good account of the pineal gland in her book "Where Science and Magic Meet". If there was a time in the year when I could benefit from increased pineal gland activity then it would seem that it would be when the sun was particularly active too. And that was July (and into August, it turned out). The coincidence seemed … fortuitous at least, pre-ordained at best.
I began to think about what things would help me enhance my third-eye opening. I had already discovered a number of techniques that I think would enhance such work:-
Chanting the "i" vowel sound to tune and open the third-eye chakra point
Facing a source of light (sunlight) with your eyes closed but looking at the point where the Third Eye is located
Imagining a spiralling bridge connection to whatever the focus is (the Open Portal technique)
In practise, here are the things I have found that are useful specifically to promote the activity of remote viewing, which is an activity that I have concentrated on most as a means to open the Third Eye:-
Being in a altered state of consciousness, grounding and centering
Having either strong sun or full moon energy available
Transferring my vision into an imaginary hawk that is flying over the place that I want to remotely view
Here are some examples of how my third-eye powers have been increasing whilst using these techniques:-
Seeing the aura of a gnome, and of the Spirit of Place at Penmaenmawr
Sensing the location of spirit forms even when i can't see them visually – Moel Ty Uchaf's spirit of place, and the dog spirit in Sherwood Forest (via sense of smell)
Getting stronger and clearer visualisations, and being able to see the location of the object being shown to me via an energy bridge/connection path or as an aerial view of a hawk
Third-Eye Quest Tarot Reading
As I often do when I am at a major decision point, or facing a quest that needs the kind of enquiry that cannot be reduced to a simple binary "Yes" or "No" answer, I turned to the tarot cards to explain some aspects of the quest I was facing. Here are the cards that I drew in response to specific questions held in mind as I drew:-
WHAT DO I NEED TO TAKE INTO THE PROCESS? –  The Great Bear (Arthur – leadership, power of the land)
WHAT DO I NEED TO CHANGE? –  6 of Vessels (Reunion) and Page of Stones (Lynx)
WHAT WILL HELP ME MAKE THE CHANGE? - 4 of Bows (Celebration), 8 of Stones (Skill), 2 of Stones (Challenge)
WHAT WILL THE OUTCOME BE? – Ace of Arrows (Breath of Life), Queen of Vessels (Salmon)
Some recurring cards there, as previous draws recorded on this blog will attest. From this reading I drew several important pieces of information:-
I need to go somewhere where I can connect to the land in order to begin this process – somewhere connected to King Arthur.
6 of Vessels is talking about re-uniting with old memories and resolving them. Like Kal has done – to go into the past to absolve an old memory of energy.
Something physical at a mound is suggested,
I will overcome a challenge using skill at a time of celebration (or the effects of celebration – joy -will be the key to unlocking the ability).
Wisdom and the Breath of Life are the rewards of opening the Third Eye
Armed with this useful information I felt empowered to take the quest further when it came to the Lammas Festival date – August 1st. In my forthcoming post about that you will see how the tarot card interpretations fitted into that day's places and events.
Gwas.
I have recently found out something that I had begun to suspect but that I had never actually confirmed until now. My year is based upon an affinity with each of the four elements as the year cycles around, and some times of the year I am more in tune with certain elements than others. I suspect this is the case for many of us on a yearly cycle, but how many of us have gone to the trouble of working out what that affinity is, and thus beginning to tailour our druidic practises towards this affinity? Now may be a good time to do this work. Of course, you may intuitively already know this information, you just may never have actually formalised it in any way. Let me show you how my year works out, and you will see what I mean.
EARTH TIME : February to May
As the male energy begins to enliven the earth again and the plants begin to stir in the soil so the earth comes alive, infusing the earth spirits with strength and rejuvenation. The seeds feel the force of the male energies and wake from their slumber in the earth in response to this.
work with earth spirits and elementals
earth magic is more potent
Underworld voyages are easier
a time to venture deep within myself and return with knowledge
FIRE TIME: May to August
The sun is at its peak and the fire elementals respond to this by being most active at this time. The land is filled with light and warmth, and the earth is slowly drained of water. The time is associated with strength, light and activity. The male and female energies in the earth and sky begin to combine to produce a flourish of growth.
work with fire spirits and elementals
fire magic is more potent
remote viewing and sending energies remotely is easier
a time to use the energy available to progress
healing energy is abundant
WATER TIME: August to November
As the fire begins to leave the plants and the heat drains from the earth so water is called upon to facilitate the decomposition process. The rains and storms come over the land clearing the channels of Summer vegetation, and cleansing the soil. In response to the weakening male energy of the sun the plant spirits make the most of their harvest producing fruits containing the seeds of the next crop to demonstrate the successful union of male and female.
work with water spirits and elementals
water magic is more potent
interactions with spirit forms is easier, especially human
clearance work and spirit release is common at this time
re-balancing of energy is more frequent and often necessary
AIR TIME: November to February
With little sun, often frozen (imprisoned) water and solid earth this time is the playground of the air elementals. High winds race across the land in full flow, and the weather is unpredictable and changeable. The air spirits love the freedom of the winter, when they alone rule the elemental domains. With very little male energy available nothing gets done and the spirits dis-engage from the plants to leave them to sleep until the new year.
work with air spirits and elementals
air magic is more potent
aura shaping/nemeton work is easier at this time
remote communication occurs more readily
weather patterns can be easily changed
knowledge and lessons are easily integrated
This is how I have come to understand the forces of the year and how my own interactions with the elemental forces is now tuned. I would welcome your own feedback on this. Are these timings similar for you too? Do you find that you work with elements at different times to me? How does this impact your work and the kind of places you visit? What stories do you have of your work with the four elements?
Gwas.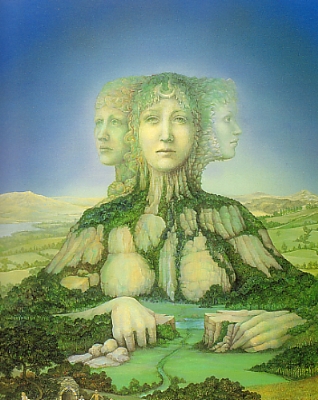 As a follower of a seasonal path, and someone who has developed their sensitivity to the variety and strength of the energies available throughout the year, Imbolc - February 1st – marks the opening of the new year. For me it symbolises the return of the male energies. What does this mean exactly? It means that up until the beginning of February the Sun's light has been too weak to feed the activity of the male subtle energies that inhabit the Earth, and which are present in living things. Therefore, for me, Imbolc marks the beginning of an increase in the strength and vitality of anything that is enlivened by the influence of male (or Sun-sourced) energies.
In Britain this year there has been an exception to this general rule concerning the presence of male energy. Male 'subtle' energy has in fact been available, albeit in a very weakened form. This has been due to the amount of sustained sunlight that we have been receiving. You can feel it in the land – the birds are singing, the buds are appearing, there have even been flowers blooming in January – normally a time when most delicate biological entities retreat into themselves and rest. An unusual year indeed. At this exact moment the frost and cold has returned to bite, yet the sun continues to shine. It is a most unusual beginning.
The heat and height of the Summer
The unusual start makes it difficult to contemplate how the year might work itself out. Are we going to see the seasons having "unseasonal" weather? Are they going to be unrecognisable from our traditional weather patterns? What will this mean for the strength and prevalence of the Earth's subtle energy forces, and for the living biological energy of its inhabitants? My feeling is that we are going to see a real peak in Sun energy this year. This may require some balancing out by those of us who work well with Moon energy (female), as we feed a calming influence into the land through selected node points on the energy grid. Let's not get all hot-headed and hysterical just because the Olympics are coming to town in the height of Summer! It's just a game, an amusement, a distraction.
As with all previous years that I have followed my spiritual path I returned to the Llangernyw Yew Tree for inspiration. Communing with this tree seems to set the spark on the year's tinder and soon a flame of encouraging light emerges from the kindling provided by this ancient life force nestled deep in the heart of a small village in North Wales. I will talk about the visit in more detail soon, but the outcome was one word: "Renown". I will be spending the year seeking out sources to increase my personal power. Renown is a subject that I will return to and explain more fully in subsequent posts. No doubt I have much more to learn about it as the year goes on.
Now let's talk about specific preparations that I am making for Imbolc, and that you could make too.
You may have noticed the lack of podcasts this year on Hedge Druid? There's a reason for that. In the first half of the year the reason could be put down to a mounting pressure of "work". Mostly this was spiritual work, and with all the good weather we have had in England this year then the Great Outdoors claimed a large part of my time, and this was reflected in the amount of time-consuming podcast work that I could do. Right, that's my pathetic excuse out of the way. Now, what about the recent months? I did intend to re-establish the podcast once the weather got worse. It has worsened, but still I don't feel inclined to get back into the studio to record and edit an hour's worth of audio. Why not? I think there's a deeper and wider reason.
I have been noticing that other pagan blogs have also begun to falter in their regularity and their commitment. Could it be that we all expanded too quickly, and pushed ourselves too hard to produce content? Possibly, but I think the real reason is due to a difficulty in maintaining momentum when this year has been out of synchronisation with itself. Let me explain.
The Moon, The Sun and The Earth sources
Last year our blogs flourished. Mostly these are blogs that are talking about magickal work, mystical happenings and spiritual progress. What general effect has happened that could account for the difference between last year's ease and this year's difficulty? Simple. It is the synchronisation of the phase of the Moon with the Celtic Festival dates. Last year the high points in the solar cycle were matched by high points in the lunar cycle. In other words, at the major lunar festival dates the Moon was also usually in its Full Moon phase.
The Celtic Wheel of the Year is a cycle that records the high points of the year's energies. It tells the pagan watcher when the Earth itself is producing the most energy in its co-operative cycle with The Sun. In my experience, and I speak only for myself here, I do not use The Sun as my primary magickal power source. For me it is The Moon. Last year was therefore a "bumper year" in terms of the number of coincidences between the Solar and Lunar high points. Magick was abundant and easy. Motivation was plentiful, and so a great deal of work flowed, and many posts got produced. Blogs flourished that dealt with these subjects.
This year the story has been completely reversed, and how dispiriting must that have been to many of our pagan friends whose magickal sources are Moon-dependent? This year the Full Moon phases NEVER coincide with any of the Solar Festival dates in the Celtic Year. Only Spring Equinox came close. The result of this, goes my tenuous hypothesis, is that motivation has taken a battering. Magickal people must have found themselves either doing Sun OR Moon work, but never being able to being the two together.